The Intrepid Society, through the initiative of member Paul Armstrong, recommended and succeeded in convincing the City of Winnipeg to rename 'Water Avenue' to William Stephenson Way. The official opening ceremony occurred on November 15, 2009. This thoroughfare runs between Main Street and the Provencher Bridge in downtown Winnipeg. It borders the Canadian Museum for Human Rights.
---
Excerpt from the Winnipeg Free Press: November 16, 2009 – Eva Cohen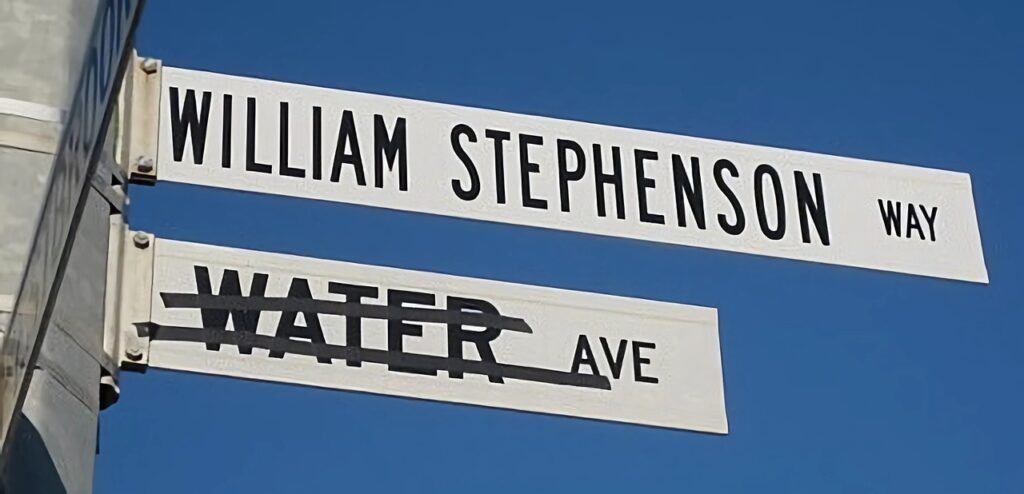 Famous spymaster finally gets his due
EACH time you drive or walk or cycle east from Main Street towards the Provencher Bridge, you can ask yourself — am I on the street named after the model for James Bond?
Stephenson, William Stephenson. Sir William Stephenson — Code name Intrepid.
Internationally famous wartime intelligence mastermind William Stephenson is now permanently recognized in his hometown with the renaming of Water Avenue. Sunday afternoon, city dignitaries, members of the Intrepid Society, relatives and the public gathered at Main Street where it intersects with what is now William Stephenson Way. The name change is in recognition of the contributions at home and abroad made by the native Winnipegger.
"To have a street named after him is the least we could do and there shouldn't be any controversy over it," said David Danyluk, who attended the ceremony with his young son. "So few people know who he was, so I'm glad we've done this — because he did so much for us."
Stephenson died in 1989 at the age of 93 after a lifetime in the intelligence sector. He was a soldier in France and also became a pilot in the First World War. Two decades and another world war later, Stephenson served as Winston Churchill's personal adviser for Allied intelligence in the Second World War. Stephenson also helped found the organization that would later become the Central Intelligence Agency in the United States.
His extensive efforts were recognized in 1945 when the British knighted him as Sir William Stephenson. [Added by Paul — He was awarded the Companion of the Order of Canada in 1980.] He became the first non-U.S. citizen to receive the Presidential Medal for Merit, and he is also recognized at CIA headquarters in Langley, Va., with a statue donated by the Intrepid Society of Winnipeg.
There is widespread speculation that author Ian Fleming modelled James Bond on Stephenson.
Currently there is a temporary display of Stephenson's exploits and achievements at the legislature [Manitoba Legislative Building], and there is also a permanent display in the Billy Bishop Building at the 17 Wing airbase.
Kristin Stefansson and Margaret Mack, who said they were distant relatives of Stephenson, said they were pleased the street name was finally changed. "I really think it's about time," said Stefansson. "He was a very private man while he was alive and didn't want a lot of personal attention, but now he will become a more well-known person in Canadian history."