Becoming a member of the Intrepid Society offers networking opportunities, access to exclusive events and resources related to Sir William Stephenson, and the chance to contribute to the recognition and preservation of his legacy.
Membership Benefits
Networking
Being part of the Intrepid Society can allow you to engage with a community of individuals who share a common interest. This involvement can lead to meaningful connections, friendships, and opportunities for collaboration or participation in projects related to Sir William Stephenson and his work.
Access to Events and Activities
Membership grants you exclusive access to events, seminars, conferences, and other activities organized by the Intrepid Society. These events could include guest speakers, presentations, or exhibitions related to Sir William Stephenson's life and work. Keep an eye on our upcoming events!
Educational Resources
Being a member might provide access to a range of educational resources, such as publications, books, articles, or archival materials, which can deepen your understanding of Sir William Stephenson's role in history and intelligence operations during World War II.
Recognition and Support
By becoming a member, you contribute to the recognition and preservation of Sir William Stephenson's legacy. The Intrepid Society may actively work towards honouring and promoting his achievements through various initiatives, and your membership supports these efforts.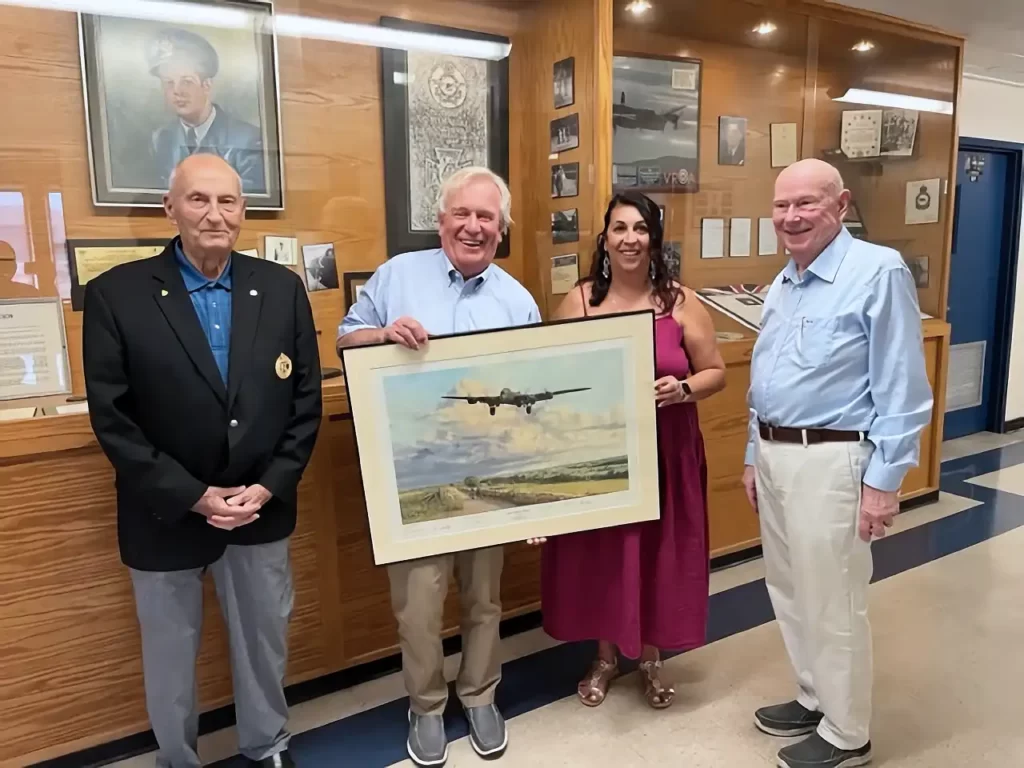 Intrepid Society Accomplishments
What has The Intrepid Society Inc. done for members and the community?
In 2021-2022, held seven luncheons at restaurants in Winnipeg, Gimli and Gull Harbour
Participated in tours and receptions at locations around the world:

Canada House in London, home of Canada's High Commissioner to the UK
Paris, France
Normandy, France at the Juno Beach Centre
The Bermuda National Museum in Hamilton, Bermuda
The Canadian Embassy and CIA HQ in Washington, D.C.

Placed bronze maquettes and busts of SWS at 10 locations around the world
Erected a Leo Mol statue of SWS in Memorial Park, Winnipeg as a 1WW aviator
Organized three formal luncheons at Government House in Winnipeg
Held lectures at the Sir William Stephenson Library and the Norwood Hotel–two featured speakers were Edward Schreyer and Dwight MacAulay
Erected displays at the Manitoba Legislative Building, Manitoba Museum, 1 Canadian Air Division, Sir William Stephenson Library and Possible Manitoba
Arranged tours of the SWS artifact collection at the Billy Bishop Building at 1 Canadian Air Division / NORAD Northern Command HQ
Hosted Guest Speaker and Awards dinners at the Fort Garry Hotel:

Ward Elcock, former Director of CSIS
Ken Taylor, former ambassador to Iran
Gary Filmon, former chair of the CSIS Oversight Committee

Held a reception luncheon for and award presentation to Andrew Paterson at a Sir William Stephenson Centre awards event (Paterson Global Foods)
Acquired an Aviation Art collection appraised at $20,000, hold a kit ship inventory of BSC blazer crests, lapel pins and bronze medallion awards and have a bank balance of about $9,400 (2023)
Placed a 1400-volume collection of spy and military history books at the University of Winnipeg
Successfully petitioned to have a street re-named to William Stephenson Way
Moved the Winged Victory statue from the former CPR Station to Deer Lodge Convalescent Home and installed two stone benches at that location.
Along with the Winnipeg Realtors Association, placed a bronze bust of SWS on the Citizens Hall of Fame in Assiniboine Park
Successfully nominated SWS to have a Manitoba lake named for him
Contributed toward a memorial plaque, which mentions SWS, to the 2WW Special Operations Executive (SOE) and resides in the Manitoba Legislature on the Wall of Honour
A good ROI for a $25 annual membership!
Join the Intrepid Society
The Intrepid Society's membership fee is $25.00 per person per year. The fee follows the calendar year (January to December). Please print and complete our Membership Form, making your cheque payable to "The Intrepid Society". Completed forms and membership fee cheques should be mailed to:
The Intrepid Society
c/o 180 Kingsway
Winnipeg, MB
R3R 3W7
Canada
For more information on Intrepid Society membership please contact our Membership Director.